New Rental Communities
View all of Housing Works' affordable communities by clicking the Our Properties button.
Our Properties
To access a comprehensive inventory of Housing Works' ongoing and completed property developments, please click on the links below. 
New Properties Coming on Board
Finished Developments
Community Involvement
Housing Works is inviting the community to nominate name suggestions for the new permanent supportive housing development that is under construction in Bend.  Nominations should be emailed to [email protected] by 5:00 p.m. on October 31, 2023.  Housing Works' Board of Commissioners will select the final name for the new development.
New Rental Communities Under Construction
Housing Works develops affordable housing for low and moderate-income households in Central Oregon. Housing Works currently has the following new rental communities under construction.  These communities will be professionally managed by EPIC Property Management. Application information will be posted on EPIC's Open Waiting Lists webpage when the individual property waiting lists are opened approximately 3 months prior to completion.
Open Waiting Lists
Housing Works was recently awarded funding for Midtown Place, a new property in Redmond. For more information on this affordable community that will serve workforce households and families, check out our recent news release.
Grand Opening Held at Legacy Landing Celebrated on November 10, 2021
Bend, OR. The Legacy Landing grand opening event was well attended by new residents, community members, partners, and Housing Works staff.  Melissa Valadez, Housing Works Board Commissioner, kicked off the event with a great overview of the development and the partners involved in making it happen.  Other speakers included Mayor Sally Russell, Deschutes County Commissioner Phil Chang, Mosaic Medical Steve Strang and Housing Works' Executive Director, David Brandt.  Margaret S. Salazar, Executive Director of Oregon Housing and Community Services, shared a virtual message highlighting the partnerships that made it possible in the development of Legacy Landing. You can watch a video of her remarks HERE. Attendees enjoyed refreshments and were given a tour of the facilities.
Grand Opening Held at Phoenix Crossing on September 16, 2021
Bend, OR.  The grand opening event to celebrate the completion of Phoenix Crossing in Bend was well attended by partner representatives, government officials, and community members.  Speakers included County Commissioner, Tony DeBone; Housing Works' Board Commissioner, Darci Palmer; Saving Grace Executive Director, Cassi MacQueen; Lead Personal Agent with Full Access High Desert, John Livingston; Chair, City of Bend Affordable Housing Advisory Committee, Cindy King; and House Representative for Downtown Bend, Jason Kropf.  Phoenix Crossing provides 24 affordable studio and one-bedroom apartments for vulnerable populations in our community.  The location offers convenient access to parks, walking trails, shopping and commercial services, job opportunities, and public transportation.  The sustainable and energy efficient features used in the building will provide a comfortable living environment for the residents as well as save them money on utility costs.  The first floor will be home to EPIC Property Management.
Grand Opening of Rolling Sage Celebrated on August 20, 2021
Madras, OR.  The Rolling Sage Grand Opening event was well attended by the Madras community and the partners involved in bringing this development to fruition.  Speakers included City of Madras Mayor, Richard Ladeby; Washington Federal Vice President Relationship Manager, Shelle Pack, who provided the financing; Housing Works Board of Commissioner, Michelle Gemelas; and Madras Chamber of Commerce Executive Director Joe Krenowicz.  Police Chief Tanner Stanfill provided testimony about how well managed the property is and stated the police department has not received any calls concerning the residents at Rolling Sage. You can watch a video of his remarks HERE.  He went on to state that affordable housing in his community does not increase the workload for the police department.  Attendees participated in the cutting of the ribbon, shared refreshments and toured the interior of the community room space and one of the units.
Grand Opening of Canyon Edge Celebrated on August 25, 2021
Redmond, OR.  The Canyon Edge Grand Opening event, held on a beautiful summer afternoon, was well attended with speakers including the City of Redmond Mayor, George Endicott; State Representative HD 53, Jack Zika; Washington Federal Southern Oregon Regional President, Peggy Hobin; PNC Senior Vice President and Regional Manager of Originations, Matt Harrington; and Housing Works' Commissioner, John Roberts.  During the event partners involved in the development of Canyon Edge were acknowledged and Keith Wooden, Housing Works' Development Director, was recognized and appreciated for his hard work.  Participants enjoyed refreshments, met several of the residents living at the property and toured a couple of the units.
Ariel South Rehab, Bend
96 two-bed units of workforce housing receiving a full revitalization which will include exterior improvements such as siding, paint, covered entries, parking lot and sidewalk improvements and interior improvements include removal of popcorn ceilings, new countertops, sinks, appliances, flooring, paint, PTHP, and light fixtures.  Construction began 2/20/2022 and was Completed August, 2023.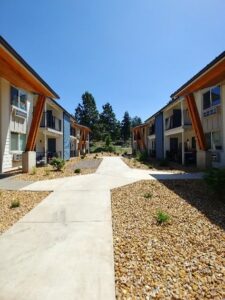 Barnes Butte Vista, Prineville, Peter's Rd.
44 Units of workforce housing (18 two-bed, 26 three-bed) townhomes.  (Very similar to Hawks View Estates in La Pine)  Will have 8 PBV, two of these will have a preference for veteran's and 3 for Saving Grace. 60% AMI income limit.  C of O's received in July 2022.  Fully leased 9/2022.
Midtown Place, Redmond, 5th and Greenwood
47 Units of workforce housing (2 one-bed, 41 two bed, 4 three bed)  Two stories.  Will have 8 PBV, first income averaging development with 80% AMI's.
Construction started September 16, 2020 and was completed February 14, 2022.  Received Platinum Certification.
Legacy Landing – Bend, Conners Rd. (Very similar to Cook Crossing)
2065 NE Tucson Way
47 Units Senior housing (6 units set aside for patients of Mosaic Medical with chronic medical conditions, 4 set aside for senior homeless veterans VASH), 1st story Mosaic Medical, leasing space and community room.  Laundry on each floor.  Located on the corner of Conners and Tucson, Bend.
Construction started July 2020 and was completed November 2021.  Fully leased 12/2021.  Received Platinum Certification.
Phoenix Crossing (Forbes Rd.), Bend
1475 NE Forbes Rd.
24 Units (12 for survivors of domestic violence and 12 for intellectual/developmental disabilities "IDD") 20 studios, Four 1 bed.  Three stories total with first story being the new location of EPIC's administrative office space.  There will be laundry space on each floor.
Located on corner of Greenwood and Forbes, Bend, next to Lava Lanes Bowling.
Construction started July, 2020. C of O in September, 2021.
All units are PBV.  Fully leased 2/2022. Received Platinum Certification.
Canyon Edge Redmond:
South Site: 1600 and 1610 SW Reindeer Ave.
6 one-bed, 27 two-bed and 5 three-bed.
North Site: 1575 SW Reindeer Ave.
24 two bedroom and 5 three-bedroom.
Units come with washer/dryer.
67 Units total: 6 one-bed, 51, two-bed, 10 three-bed
Workforce Housing
North side building completed October 1, 2020.  South side completed first week of December 2020.
8 PBV units, 30% AMI, resident pays 30% of their income Fully leased 3/2021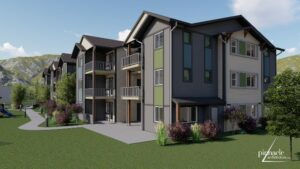 Rolling Sage Madras
246 NE Jefferson Street, Madras
23 units workforce housing, all 2 bedrooms.  Washer/dryer in each unit.
Completed  9/18/2020. Fully leased 10/31/2020
Updated September 28, 2023